CES (Consumer Electronics Show) is where all the major consumer electronics manufacturer shows their latest technology and products. All the manufacturers are showing their lineup of products. At CES all the major corporations announced her new and improved product and services. So in this article, we will show you the Best of CES 2020. Here we did the hard work for you to find the most intriguing and exciting gadgets or tech of CES. We find the 10 coolest gadgets and tech launched at CES 2020.
Here's 10 Best Gadgets or tech of CES 2020
---
1. TCL 10 Pro
TCL is the company behind a smartphone brand Alcatel and blackberry. Now they've come up with the new smartphones with their own brand. The company has unveiled the TCL 10 Pro which is the flagship high-end Phone. The channel targeted to lower segments and the 10 Pro is 5g enabled Phone. The Temper will feature on-screen fingerprint four rear cameras and promises to have a higher refresh rate.
The TCL 10 5g is likely to feature snapdragons centerpieces chipset as the chipset is integrated with the 5g model. The Phone will likely be available to the consumers under $500. TCL 10 Pro expected to be launched on Feb 24, 2020.
2. LG Gram
---
An LG Gram is the lineup of laptops weighing under three pounds by LG. LG has been updating its LG Gram laptops ever since it launched in 2016. The new lineup of LG Gram laptops finally has been announced at the CES twenty-twenty. The LG Gram laptops offer perfect Portability and its enhanced performance with 10 generation intel core processor. It comes with iris plus graphics it allowing it to go anywhere and do almost anything. The laptop comes in 17, 15, and14 inches display sizes and with an 80 watt-hour battery.
You can forget about your adapter and get all the battery life without worrying about running out of charge. LG grams IPS panel delivers clearer and more color expression posting your productivity while typing or editing video. Laptops enriching your gaming and movie-watching experience. The new Gram has an upgraded thermal that supports you in handling larger workloads and multitasking with ease. Its line less hinge design makes the Gram laptop a perfect and powerful model accessory for the power user, creator, gamer and content lover with its improved feature and design.
3. Lenovo ThinkPad x1 Fold (Best of CES 2020)
---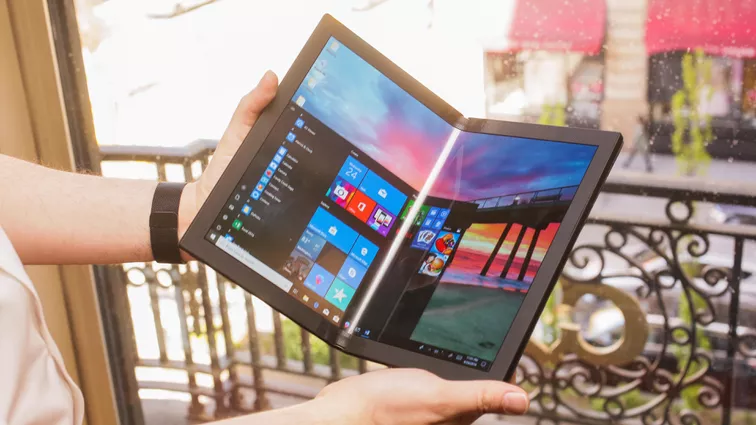 Last year Lenovo showed off the pro-type tablet that could fold up like a boot. Now at CES 2020, Lenovo announced their idea as a commercial product called the Lenovo ThinkPad x1 fold. The x1 fold packs 13.3 inches LG OLED panel. A display resolution is 2048 by 1536 in his foldable body. It runs on a special built-in Windows 10 Pro. Which is an upcoming OS for folding and dual-screen devices like the surface new.
It counted a Bluetooth keyboard that magnetically snaps onto the bottom half of the display for can be an in typing experience. The x1 fold is expected to last about 11 hours on a single charge. Which is enough for completing every task with ease. The Lenovo ThinkPad X1 Fold will launch in mid of 2020 and the expected price is $2,499.
4. LG Monitors
---
At CES companies and manufacturers showoff, their new land bucks and LG have unveiled three new monitors in the CES. LG ultra gear targets gamers, LG ultrawide service content creators who need productivity and gaming in one monitor. The LG ultra-fine display air-water gas professional content creators and media presumers. The LG ultra-clear 27 GN 950 has a 4k UHD 1-millisecond range great response time Nano IPS Display with a refresh rate of 144 Hz. Over clockable to 160 Hz and NVIDIA juicing compatibility. It focuses on ultimate picture quality with DCI p3 98% and razor display HDR 600.
It's 38 inches carbon an IPS monitor with qhd+ resolutions that allow seamless edit code and reviews simultaneously with as much as three times screen space. Also with one millisecond grey2k response time with a refresh rate of 141 Hz. The 38 w 95c monitor offers a thunderbolt 3.0 port dcpip98% and faster display HDR 600 for content creators and media presumers. LG came up with the LG ultrafine display air go monitor with 4k Ultra HD compatibility with HDR 10 and DCI p3 95% standards.
So that they get the most details vibrant color and dynamic visual immersive experience. It is an ergonomic monitor with its ergo stand that allows you to change the screen position to adjust the workspace distance between the user and the monitor. With its USB type-c port, you will get good compatible with the MacBook allows simultaneous transfer 4k screen content and data. Availability and price for the monitors along with LG's newly announced monitors will be announced very soon.
5. Samsung Ballie (Best of CES 2020)
---
Samsung has unveiled a new life companion robot the Samsung Ballie at the CES 2020. The robot is the rolling ball is designed to help around your home. While also instances you, support you and reacts to your needs. The robot has a camera on the top to navigate around the home and utilizes all device AI to perform a serious task including home security and figures. The ball e not only interacts with the human and pets also interacts with various smartphone devices that you have in your home to trigger them to work. The ball alive companion robot is still very much the concept and there is no word when it will be available to the masses.
6. Segway S-Pod
---
Segway has announced a new self-balancing vehicle that you can sit on to ride, unlike any other segway vehicle. The self-balancing two-wheeler an egg-shaped rim that is meant to let people roam around campuses theme parks, airports well city. The S-Pod is controlled by a little joystick on the right end. You don't have to drive it by leaning forward-backward and sides. The S-Pod can hit a popping top speed of 24 miles per hour and it's to will set up will allow for quick changes in a direction even well stop. According to a company, the S-Pod will be debuted in the third quarter of 2020 and plans to sell them to consumers by 2021.
7. Samsung Sero & 8k Tv
---
In CES 2020, Samsung has come up with several amazing TVs including their flagship 8k QLED and Samsung zero. A lifestyle 4k TV for those believe their life on their smartphone. The Sero stands on an antiquated non-removable stand that includes a four-point one-channel, sixty-watt speaker system. The Sero is a 43′ inches screen TV that connects to your smartphone. like to enjoy vertical videos without an annoying black bar on both sides as the store tapes with their content. Galaxy, users can tap their smartphones against the series frame to connect and TVs rotate as you rotate your Phone.
While iPhone another smartphone user can use the included remote to change vertical and horizontal viewing. The new 8k flagship is called the Samsung Q950 Tv is one of the nicest looking TV with razor-thin bezels and 99% screen to body ratio. It will come in 65, 75 and 85 inches screen size. The TV is only 16 millimeters thick yet packed 6 speakers into its all-screen design. The TV also features AI-powered upscaling. So that you can get to enjoy your content in 8k. since there is not a lot of 8k contents available right now. Samsung also has a lot of 4k QLD TV lined up for the consumers in this year and then will be hitting the global market pretty soon.
8. LG CineBeam HU70LA 4K Projector
---
LG has been releasing 4k projector from 2018 and they have released yet another 4k projector, which is the eldest LG Cinebeam HU70LA. The Cinebeam HU70LA is capable of giving you 4k resolution and delivers a full 8.3 million pixel image, offering an immersive home cinema experience. Equipped with will less 4 channel LED technology. This projector overcomes defects like discoloration or rainbow effects of up to 90%.It also maintains initial brightness much longer than conventional projectors. The projector features HDR 10 and is equipped with 15 Hz and salon lights that provide enough brightness to enjoy cinema tone.
This projector is not only functional but also very smart with built-in Wi-Fi LG think q AI and Google assistant support allowing you to control functions of the projector to the magical mode by simply talking into it. With a Web OS 4.5, you will also have access to various apps and streaming services like Netflix, Amazon Prime Video, Spotify music and other apps without connecting with laptops. The LG Cinebeam HU70LA 4k is a great projector for having true cinematic experience in her home for the first time. It's available online at around $1650.
9. Autel Evo 2
---
Autel robotics just announced her next Evo series drone. The Evo 2, Evo 2 pro and the Evo 2 dual at CES 2020 after so much hype. The Evo 2 series drones offer three interchangeable gimbals and camera lenses. Evo 2 is equipped with an 8k lens that can take 48 megapixels of the still picture. While the Evo 2 Pro has a 1-inch camera with an adjustable aperture that can record at 6k resolution. While the Evo 2 dual is equip with an 8k and a thermal camera with a resolution of 640 by 512. Targeted towards first responders, contractors, and industrial users.
The Evo 2 series will offer a maximum range of 9 kilometers and with its massive send 100 million per hour rechargeable battery. You would be able to get a maximum flight time of forty minutes. The Evo two is equipped with the most powerful dual processor and with twelve computer vision sensors. That is capable of detecting potential hazards and at the 30 meters away to avoid a collision. Auto Evo 2 series is currently in production and pricing and availability will be announced soon.
10. Sony Vision -S Car (Best of CES 2020)
---
As an announcement, the tech joint Sony has unveiled its first-ever car, which is an electric Satan called the Sony Vision S. During its keynote at the CES 200 kilowatt motor for its all-wheel-drive system. Which allows it to reach zero to 62 miles per hour in just 4.8 seconds with the top speed of 149 miles per hour. It comes with four seats with individual seat speakers for a comfortable ride full of entertainment.
It will also come with a TOS sensor with 33 sensors to ensure road safety. The Vision-S will come with double-wishbone front and rear suspension with an air spring system and will provide a ground clearance of 120millimeters to 135 millimeters. So that you can tackle any terrain with confidence. Sony created a massive height with a first-ever electric car and turn a lot of heads with the surprise. There is no official news on when the car will be available, stay tuned for that.
---
This post was originally published on 20, January 2020, but according to new information stuff this post update frequently.
Image Credit: Google Search/HA Bytes