Many of new devices and technologies have been shown at the CES 2020. There had been a lot of new and innovative smart home devices among them. So we thought of showing the smart home devices that are shown at CES 2020. Here we find the top 10 best smart home devices that are shown at CES.
Further Reading: Best of CES 2020: 10 best Innovative Gadgets and tech
10 best Smart Home devices shown at CES 2020
---
1. Samsung ballie
Samsung has unveiled a new life companion robot the ballie at the CES 2020. Which is a lifestyle robot that is aimed at giving you companionship, keeping you healthy and your home secure. This robot is a rolling ball designed to help you around your home, well also understand you, support you and reacts to your needs. This smart home device has a camera on the top to navigate around the home. It also utilizes on-device AI to perform a series of tasks including home security and fitness.
The ballie can not only interact with the human and pitch. Its AI also interacts with various smart home devices, that you have in your home to trigger them in to complete certain tasks, making your home automation more autonomous. The ballie life companion robot is still very much a concept and there is no word about when it will be available to the masses.
2. Kohler Aquifer Refine Purification system
Kohler has added a smart aquifer refined water purification system for your kitchen. It has a three-stage filtration system to filter out lead mercury bacteria and viruses. Along with some pharmaceuticals and other contaminants. With Wi-Fi connectivity, you can see your water usage, filter life and have notifications about potential lakes. The aquifer refined system also connects with Amazon – through Amazon Alexa to automatically order new filters. When the current filter life reaches 10%.
3. Bosch's connected refrigerators
Bosh's brought a connected fridge with two built-in cameras while looking at the main interior. The fridge and the other shelves on the door. Bosh has partnered up with chef Lee a recipe and meal planning app to develop software. So the counts recognize the food in a fridge and recommend appropriate recipes. The refrigerator uses image recognition to identify items that are added or removed from the list and automatically updates the inventory list.
As part of the package, you can have a recommendation on the recipes based on the things that are available under-connected fridge or pantry through the chef Lee app. This feature could potentially save your time in preparing your favorite meal.
4. Wemo Wifi Smart Plug and Wemo Stage
Wemo is a renowned name in home automation gadgets. As a CES 2020, the company has added 200 products including a new version of the really smart plug. The plug offers all the features of its predecessor and promises to automate anything you plug into it. It also supports voice control via Alexa, Siri and Google assistant in its smaller body.
The other is the Wemo stage, a scene triggering remote control that you can dock in the wall. The device can trigger Wemo scenes such as movie mode lightning or away from light. It can also trigger apple home kit scenes. Which opens a lot of utilities that extend beyond Wemo's own platform.
5. Narwal mop and vacuum robot
There are a lot of robot vacuums in the market. They have been around for years but the Narwal T10 is a robot vacuum that not only cleans your home but also can clear itself. This robot vacuum has two tanks, one for clean water and another for dirty water. It mops your floor with the clean water and then sucks up dirt on the floor. The mop head and stores the dirty water in the second tank. You can control the mop and vacuum cleaner via an app to create a layout of your home for easier navigation and hands-free cleaning experience.
6. Blue By ADT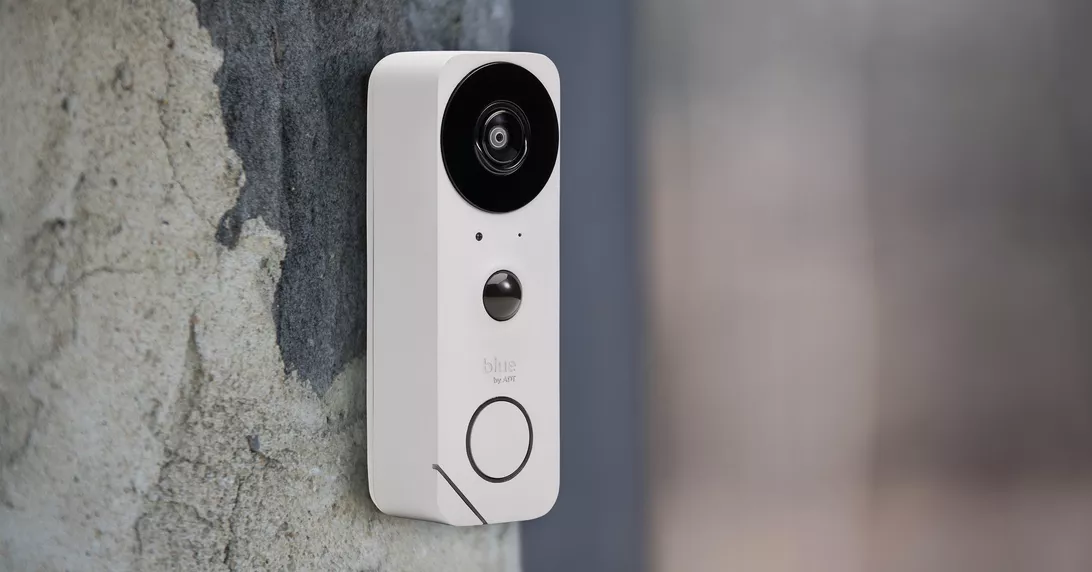 Home security company ADT has come up with its own DIY brand "Blue by ADT". Which offers a durable camera, indoor camera and outdoor camera, all at $199. The cameras are designed to work as standalone devices or together with additional DIY blue security accessories that are expected to launch later this year. The durable camera has thousands of 1080p HD live streaming capability with a 180-degree field of view, two-way talk, motion, and person detection.
While the indoor and outdoor camera 1080 HD Live Streaming, two-way audio and a built-in micro SDcard slot for local storage. The indoor camera is supposed to listen to smoke and carbon monoxide alarms and send a custom alert to you if there is a problem.
7. Dux Alexa Bed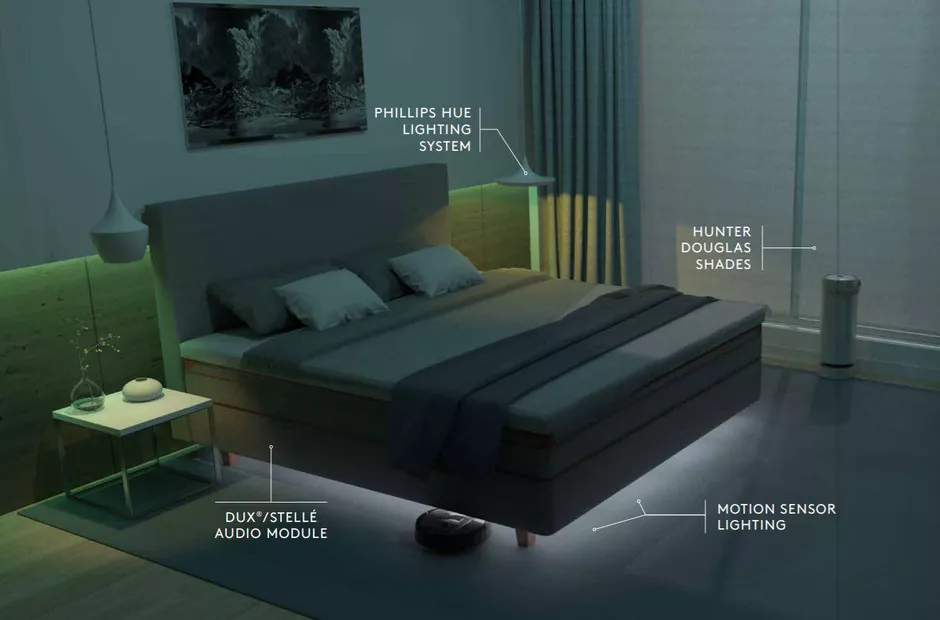 Duxiana Swedish luxury Bedmaker made an Amazon Alexa enable bed but to add unseen AI assistance into your bed. The speaker comes from still, a luxurious smart speaker brand. That allows you to handle the deeming of the lights to guide your evening meditation and changing the temperature for Sleeping conditions. The brand has an app that connects with a molecule air purifier flips your smart lights and few other smart connected devices to control them from your bed. The dux Alexa bed will come in King Queen and California sizes and the price will be around $4,950
8. Moxie Showerhead & Smart Speaker
Kohler has a smart showerhead line with Built-in wired speakers. If you're someone who enjoys singing in the shower. Then Kohler has a new Moxie shower head for you and that has built-in audio from Harman Kardon. This Speaker is waterproof, portable, and detachable which attaches to magnets with a showerhead. Aside from listening to your favorite music while having in the shower you can also at Alexa the fury in on the face headlines.
The speaker will also allow you to integrate that the Kohler connect voice control pots or you can connect to other speakers to create a more immersive sound experience. You can get the speaker for only $99 and the Alexa enable version will cost you only $129, for $70 more you can get a showerhead with the speaker integrated with Amazon Alexa voice assistant.
9. LG thinq Washer and Dryer
Doing laundry can be very Montanus but LG is planning to make it a little easier on us with its new thinq Washer and Dryer with AI. This washer has smart technology that can detect the volume and says the type of fabric you are adding and automatically determine the best cycle for those specific clothes. You can also operate this washing machine by using the conversation based voice recognition technology.
This washer will also send maintained certifications based on your usage and will alert you if you're doing something wrong with smart pairing. This smart washer will automatically send the correct setting to the compatible dryer to set the optimal settings to dry all of your clothes as well.
10. Samsung sero tv
Our TVs have always been in landscape mode. While the contents that we watch today are not limited to landscape anymore due to the rise of the smartphone. There are contents that need to be viewed in portrait which can be problematic while watching the content amount of TV. Well with Samsung Sero you don't have to suffer the black bar on both sides of the TV while watching content from tik-tok, Instagram, snap chat and other mobile platforms from a TV. This TV automatically rotates to either landscape or portrait mode depending on the movement of your smartphone.
This rotating TV has an integrated non-removable stand that also includes a 60 watt 4 pin one channel speaker system inside. It has a 4k screen with a qulet color and showcases artwork. When not playing video content the TV gets connected to Galaxy devices by simply tapping into the frame of Sero. While for Apple users there is a remote to change between landscape or portrait mode.
---
This post was originally published on 23, January 2020, but according to new information stuff this post update frequently.
Image Credit: Google Search/HA Bytes